Project developers rely on EFT to be their technology partner because we have a very robust and cost-effective Fischer Tropsch (FT) catalyst/reactor system. We can design the FT system to fit a broad range of syngas compositions and flowrates. EFT uses a rugged and proven tubular reactor design with proprietary heat transfer enhancements. EFT also has patented reactor options that allow us to custom fit our FT system to any syngas source. It doesn't matter if syngas comes from natural gas, biogas, biomass, MSW or reverse shift of CO2. EFT can also provide a process design package to upgrade our FT syncrude to high yield jet and diesel products. Our proprietary FT catalyst has the highest C5+ yield so we offer optimum product yield. We custom fit the license to meet the project needs.
The world is moving to adapt new sources of energy that are renewable and sustainable. EFT technology is a platform that can produce high quality drop-in compatible products that meet or exceed the specifications of the fossil-based products they replace from a variety of feedstocks.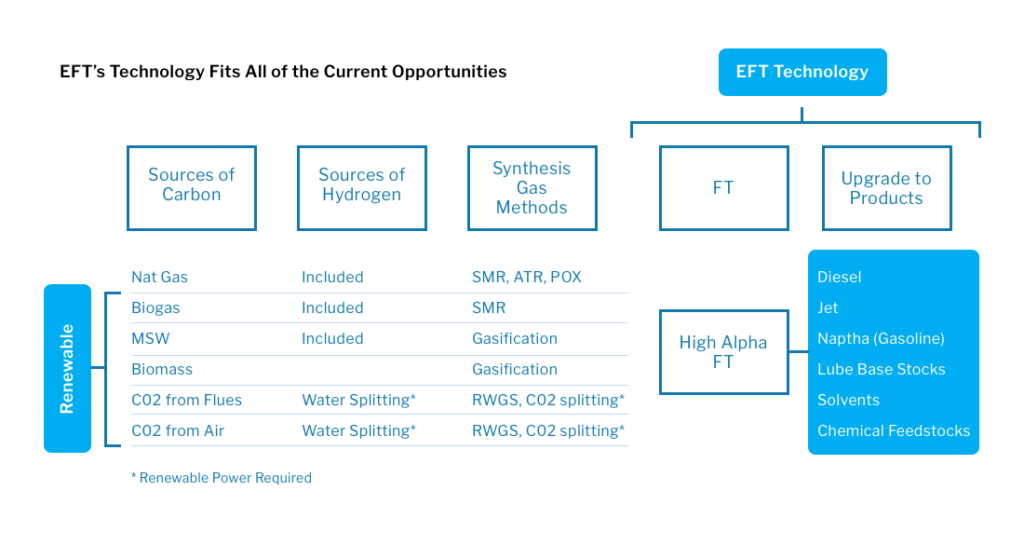 Licensee Support
EFT can provide process engineering support for scoping and feasibility studies to support site selection and early stage project evaluations. This may include process optimization related to feedstock characteristics, product variations and cost sensitivity to various options.